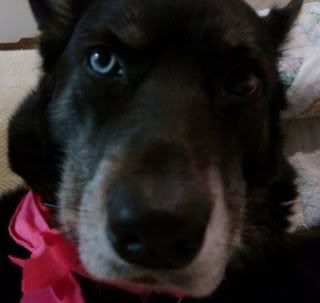 Hello. I am Totsi, resident canine of Casa Didgeridoo, and all around seer of most things good. Today, I would like to talk to you about being a hero.
Mommy and I took a nice walk this morning at one of our favorite parks. There are trails and grassy areas, patches of mud to roll around in, bushes to get into, and even a drinking fountain especially for those of us who walk this earth on four legs. It is truly a wonderful place with so many things to see and sniff, and a world of options for getting into. Sometimes you can even see turtles. But something not wonderful about this place is humans who do not do something that they should for their dogs.
Humans, please clean up after your dogs. We can't help that we have to do that particular thing when we have to do it, and the way we have to do it means that we don't have the option to dispose of it as handily as you do when you do it. The grass does not flush. So it would behoove you to avail yourself of some bags and tie them to our leashes when you take us out to big public places where you know darned good and well we are most likely to do it. It is not difficult to pick what I am talking about up. Yes, you might have to carry it a way to find a place to throw it away, but remember - you did decide to make a dog part of your family. We come with a particular set of needs, and I am afraid this is one of them.
Have you ever stepped in that thing that we do? Did you like it? Did you find the smell at all pleasing? You probably didn't, and if you did, I am sorry but I think something might just be a little bit wrong with you. Do you know what might have prevented you finding yourself dealing with that? A good and responsible human equipped with a supply of sturdy bags, ready and waiting should their good, noble, and loving dog's need arise.
Think of it that way for a minute and ponder what this means. It means that every time you pick up that thing that we do with one of those bags and take it to the proper place to dispose of it, you are a hero. Our humans are our heroes anyway, but to clean up that thing that we do that we cannot help that we do is really something else. And not only are you then even more of a hero to your good, noble, and loving dog, you are a hero to all those people who didn't have to wind up stepping in what we do.
You would like to be a hero, wouldn't you? Doesn't that sound nice?
Enjoy your day, and dance some.
Totsi Tatertot Didgeridoo